The Story of Government School Nkeng
February 1, 2016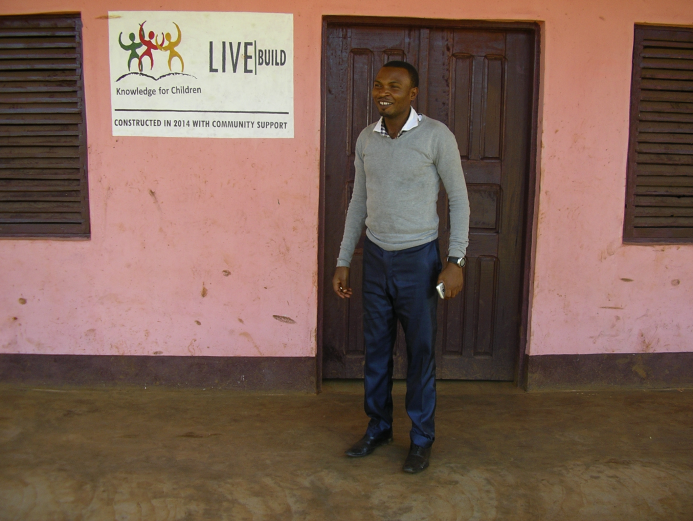 Government School Nkeng was created in 1990 with two classes and two teachers. One of these teachers was professionally trained and employed by the government while the other was untrained and employed by the PTA. Most parents, including mine were peasant farmers. It was a great pride for any of us to enroll in this school. It was not easy for my parents as well as many other parents to pay fees and at the same time buy exercise books and talk less of text books. Since I never had textbooks, I used to be driven away from school. To be able to do classroom exercises and assignments, we had to parasite around fortunate ones whose parents could buy the most needed textbooks.
Our school did not have enough textbooks for the teachers to enable them prepare their lessons. Today, I really wonder how they ever prepared their lessons. The school never gave any books to the pupils, obviously because they had nothing to give. Almost all the lessons were written on the board for the pupils to copy. This was very difficult for our teachers and us the pupils. Learning in my former school at that time was not the best.
When I reached class seven, we had afternoon classes that were taught by some PTA-hired teachers who lacked basic teaching skills. Most of these teachers were secondary school drop outs. They had no basic skills in teaching. In class five I almost abandoned school because our teacher was very aggressive. He would beat us like animals. He did not take time to explain things to us. It was like most of our teachers were just a page or so ahead of us. Consequently, many of us graduated from primary school without being able to read and write very well. I remember one exercise that we did in word building. Most of us were unable to spell words correctly on the board. It was very challenging for both the pupils and the PTA-hired teachers. Since many of my classmates left school without being able to read and write, they could not continue to secondary and those who tried dropped a few years after because they could not cope.
We did not have good drinking water. We carried water from a stream below the school and nobody ever talked about treating water before drinking. I cannot talk of washing hands because there was no running water and the little stream was for drinking. We had no wash hand tanks. Our classrooms were uncemented. The windows were wide open with no shutters. No education on some illnesses like HIV/AIDS, malaria, reproduction, etc. No basic hygiene in school and in some households. Some of the consequences of these on the pupils included lies, jiggers, cough, malaria, unplanned pregnancies and school abandonment
Today, I visited the same school and I could not believe my eyes. At first I thought I had missed my direction. Knowledge for Children Cameroon has helped the school very much in the various projects that they have executed successfully in this school. Through her co-investment model with parents, they have been able to provide enough registries of books in the school that no parent would remember when a child came home driven for textbooks. Pupils have enough textbooks to do their classroom work and assignments. Pupils acknowledged that their reading abilities have ameliorated. Their performance in government-organized exams has improved. Most of the pupils that graduate from this school now continue to secondary school. The teachers use the books for research and in the classroom teaching. There is no time wasted in writing out notes on the board for the pupils to copy.
Through the health program, a health club has been set up in the school. Sanitation in the school has improved. There is potable water in school. Knowledge for Children has provided wash hand tanks. Many children have been able to learn about simple hygiene issues and health related problems in school. Story books on HIV/AIDS have helped instill reading culture in the pupils thereby improving their reading skills. These books also help in the sensitization of pupils on the dangers of HIV/AIDS. The teachers confirmed that the sanitation standards have improved and that those who come to school dirty or with bushy hairs are sent home.
All teachers have been given capacity building free of charge and this has made teaching and learning easy and the school environment is much friendlier. There is great collaboration among the teachers. PTA teachers are helped by those trained professionally. Teachers say they are grateful to Knowledge for Children for this opportunity. They have benefited enormously from the training. One of the PTA-hired teachers who taught me confessed that through Knowledge for Children training she loves her job more because she is able to do many things she could not do formerly. They said when the school will graduate from the Schoolbook program, they will still like to continue attending the trainings of Knowledge for Children.
Through a school reconstruction and renovation GS Nkeng has received a face lift. The classes are cosy and much more comfortable to learn in them.
The pupils of GS Nkeng acknowledge the great transformation of their school by Knowledge for Children. They have enough textbooks for their various exercises and assignments. They have a good study environment and their performance in various exams has improved. GS Nkeng is an ideal study environment for our pupils, teachers and parents with the help of Knowledge for Children Cameroon. More grease to your elbow Knowledge for Children!