Blog 1: Crisis in Cameroon what to do?
April 7, 2017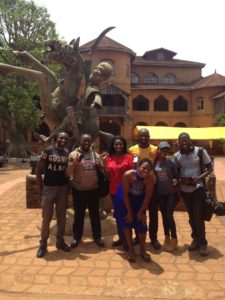 What would you do if your team can't do her work?  When you don't have any control over the situation causing this and you still want to keep heading in the planned direction? I just started as the Managing Director Africa and like to share how I handle this together with our team in Cameroon.
It's important to understand a bit of the situation. Since November last year, it hasn't been safe for children to go to school in the area that we work in. Schools are open but teachers can't teach. Education is a sensitive subject. The team can't do our normal activities. Everything came to a full stop. Nobody knows how long this situation will continue.
Meantime the academic year is passing by. At this point it would have been holiday. In the last week of April schools should open up for the 3rd term of the year. This last term traditionally is marked by exams. But children can't pass the exams as they had no chance of studying for this. All and all this means that we can give up on this academic year. Everyone hopes that the situation will be solved between now and August so schools can open up for a new academic year in September. Unfortunately, nothing is sure at this point…
Concerns towards the situation
We started our team day in Cameroon with everyone expressing how they look at the current situation. We did this through association cards that helped everyone to share their view towards the situation through visualisation. Everything was shared. From a farmer working on a very dry piece of land to prepare for the rain to make the soil fertile again to a group of people on a rafting trip on a whirling river. What struck me the most was that each view shared a feeling of: "We are facing tough times but we are strong and not giving up!" I couldn't have wished for a better starting point for the rest of the day.
To continue I asked everyone to write down their 5 biggest concerns. Personal or work related, all concerns are important and relevant. We discussed all concerns. This resulted in a list of 18 concerns shared within the team. Concerns relating to our work. How do we make sure sponsors keep sponsoring us? How do we keep reaching children if they are not in school? But also personal concerns. Will I be able to keep my job? What if things escalate and people get hurt or even die?
From concerns to influence
By using Stephen Coveys book "The 7 habits of highly effective people" and his theory on the circles of concerns and influence, we divided the concerns into 3 categories: no influence, direct influence and indirect influence. Concerns that are not part of your direct environment, you can't influence but you can directly influence yourself and your own behaviour. You can indirectly influence the people around you and their behaviour. The concerns that were related to the team, the direct concerns, were placed in the circle of influence. The indirect concerns, relating to the people around the team, were placed in the circle of concerns. Outside these circles, we placed the concerns outside our direct environment.
Concerns that we can't influence are the concerns regarding the situation itself. We can't influence whether or not this situation will persevere or even would escalate. Stephen Covey suggest to look at the concerns that you can't influence with a smile. Normally I really regard things with a smile and this smile can't be bright enough! But it does not suit this situation. What we could do is place these concerns outside of the circles and to look at the things we can influence. Not hide these concerns, they are valid and very urgent but to shift our focus to the things that we can do that will make us stronger!
Based on the circles of concerns and influence, we discussed a strategy how to influence these concerns. What can we do ourselves? What can we do to keep others involved with our organisation? We came up with a strategy for each concern and within these strategies every team member has a part to play.
Then we related the chosen strategies to influence the concerns as much as possible, to our year plan 2017. Reality forces us to face the fact that 2/3 of the year will not consist of activities in the schools. Our sponsors however support us for these activities. They expect results from their funding. This is why it is important for both the team and our sponsors to decide: "What can we do during the current crisis and what can we achieve if children are going back to school in September in order to still have a successful year?"
Effectivity in a plan
The end result of this team day is one to be very proud of. As long as children are not in school, the team focusses on reaching parents and the communities through the radio. Every 2 weeks team members talk on the radio about topics related to education. This to encourage parents to take their part in educating their children. Parents will be advised to pick up books from the schools to be used at home. We give them tips on how to use these books at home etcetera. A beautiful way of still being connected with the parents and communities and therefor ensuring the sustainability of our program. We will also use this time that children are not in school, to prepare ourselves in the best way possible. We will further develop the manuals for our workshops for the teachers and leaders of the schools. We will identify coaches and train them to eventually coach the teachers in the schools. We will visit every school to advise them on how to share the books with parents. Offering us the perfect opportunity to stay in touch with the schools and enabling us to advise schools on other matters.
The future
All of this comes down to the team laying an even firmer foundation for our program. Giving us the chance of have a start with full force! Outside our circles of concerns and influence lays the question whether or not it will be safe for children to back to school in September.
The outcome of our team day was beautifully put into words by Elaijah, our program manager Quality of Education. "If you drive in a heavy storm, you can't see where you are heading. But you can see what is right in front of you. You have helped us to see what is happening right in front of us clearer and that will enable us to reach the end of the storm successfully."
I am very proud of the power and resourcefulness of our team in Cameroon. I have complete confidence that they will be able to come out of this situation even stronger. Everything is indicating that things will settle down between now and August. In September I will be back in Cameroon. I am looking forward to see the team set of for a flying new start.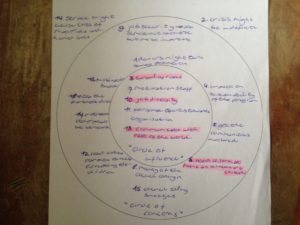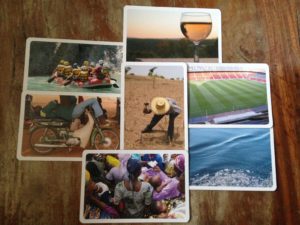 .