Blog 2: Search for Country Director Uganda
April 13, 2017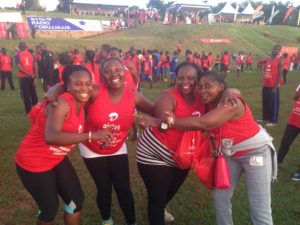 Imagine you have packed all your bags and you are ready to take off to Cameroon. There are 2 days left for you to transfer the last things to the new Country Director in Uganda. And then you get the message that she wants to stop… Aaaah, what to do now?
After being the Country Director in Uganda for the past 3 years, I am ready to take the next step. It is time for the team in Uganda to get a new boost while I will be focussing on the transcending line of our organisation. Supervising the countries that we work in, starting our organisation in Kenya: I want to start! When my successor started in February, we focussed on my departure towards Cameroon by the end of March. The moment that I would be letting go of Uganda more and more. The moment to start to see how far each country has come and what they need to develop even further in order for me to supplement on that. But not yet as it seems…
The decision of my successor to stop did not come as a complete surprise. The chosen moment did. With just a few days before I would set off to Cameroon, my mind was already thinking of how to solve the crisis the team is facing there. So it was a tough cookie to sallow to a certain extend but on the other hand it also just meant I had to toughen up. I believe in open and honest communication. If everyone is honest, everything can be solved. My last day in Uganda started with a team meeting where I got straight to the point: my successor will no longer be your Country Director. Astonishment and disappointment all around. People in Uganda often tend to think they are the reason why if things go bad. That is why it was important for me to stress the fact that the decision had nothing to do with the team. There is just no match between our mutual expectations that can't be overcome which is outside the influence of the team.
Luckily it has happened before that the team worked without their Country Director. I travel often to the Netherlands and have also already been to Kenya and Cameroon. This means that we all know what needs to be taken care off in order for the team to continue moving forward without guidance or supervision. So we pressed fast forward and organised everything. Each program manager made an estimate of which activities would take place and the required budget for that. I went to the bank together with our Chairperson of the Board to organise the needed funds for that. At the same time, we discussed how he and the board could take ownership and responsibility to guide the team while I was away. While I was driving to the airport, I became aware of something very important. The decision of my successor to stop barely had an impact on the team or the results we want to achieve this year. Everyone in the team knows what is expected from him or her and what needs to be done in order to be successful. They work as a team and help each other out. What a great gift to me to realize this and to be able to share it with the team: we can be so proud of ourselves! I got on my plane ready to face the next challenge with complete faith and confidence in the team in Uganda.
Last weekend I came back to Uganda. Monday we had our team meeting. As to be expected: the team has been very busy while I was away. Our program continues to move on as we planned. These past weeks the metaphor of a train has been coming up many times. Every year that I have worked with the team, we have been working on our path towards accomplishing our shared dream. We all share this dream of enabling the primary schools that we work with to become self-reliant and to improve the education standards with all stakeholders of the school involved. That is the end of our path where our train is heading towards. Every year we ask ourselves: "Are we still on the right track?"
My first year in Uganda we were mainly focussed on finding schools to join our program, to mobilise the communities to come up with their contribution so we were able to bring textbooks to the schools. Our primary focus was the 1st step in our program: "Books". We did work together with the Primary Teachers Colleges to train teachers but it wasn't until my second year in Uganda to further develop this by hiring a program manager to fully implement the 2nd step of our program: "Quality of Education". Last year the moment arrived to complete our program with its 3rd step: "Leadership". Since 2016 we have a program manager responsible for each step of our program. The program and its activities are designed and part of a steady structure. Every year we evaluate what we want to achieve in the schools, how we are doing so far and what we can do to improve to reach our goals. Last year was also marked by the first 4 schools to finish our program. Time to design a policy for these schools; what do we expect from them and what do we offer in return now that we are developing partners.
Every year we move forward as a team, further down the path towards achieving our dream. As a team we look at ourselves critically and dare to do the same towards our schools. The foundation of our organisation is set in a stable way. Our program works. This doesn't mean that we are done. We have to keep looking at what we need to do in order to keep moving ahead succesfully. Every year we continue constructing our path in order for our train to keep moving down the right track. Our train moves fast, we have 85 schools in our program and that means we are at full speed now. The team is able to organise and carry this out on its own. They do however need guidance and leadership. How do we stay on the right track and will we achieve our dream? The team needs support to be able to keep moving forward in both the administrative and financial way.
To quote the team: we need a leader to guide us in the right direction, not to distract us from our path. Someone who has the end in mind and can take us there.
The departure of the Country Director and my absence the past few weeks, show that the team is capable and strong. A very positive result of all our efforts together these past years. As Managing Director I will not leave Uganda completely. I will however no longer manage the team on a daily basis. I believe that is good for any organisation to change management. In Uganda maybe even more so than for example in the Netherlands. The team shows they are capable and self-reliant. They however think that this is just because of my guidance and leadership. Yes, I have guided and coached them, showed them what they are capable of and how they can use their capacities to reach their full potential. But the capacities are theirs not mine. It is my wish that a new Country Director will help them realise this. And maybe even shows them other capacities that they have.
Applicants for the position of Country Director Uganda have time to apply until this Sunday. I hope we find a good and strong new Country Director. Someone who is ready to jump on our train and lead the way. Who can guide the team down the path towards achieving our dream of better education for the children in Uganda with self-reliant schools!