Reis Oeganda en Kameroen
Ga mee met de Experience reizen naar Oeganda en Kameroen en selecteer je eigen adoptieschool!
Experience Oeganda of Kameroen (Elke 2 jaar)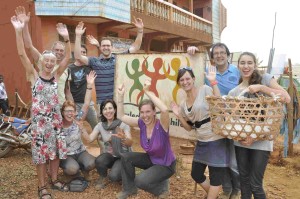 De Experience reizen van 2013, 2014 en 2015 naar Kameroen en Oeganda waren een groot succes. Bij alle reizen was er een groep van 8 tot 10 mensen. Ze hebben alle activiteiten van Knowledge for Children kunnen bijwonen en hieraan deelgenomen, ervaren hoe het is om in ruraal Kameroen of Oeganda te leven en genoten van de mooie stranden, safari's en glooiende heuvellandschappen.
Een ander belangrijk onderdeel was dat in totaal 6 scholen zijn geadopteerd en dat de groep zelf heeft gezien op welke scholen het geld terechtgekomen is dat ze hebben ingezameld. De Experience is dan ook een ideale combinatie tussen nuttig bezig zijn en genieten van alles wat Afrika te bieden heeft!
Meer specifieke reisinformatie over nieuwe reizen volgt snel op deze pagina.