Oeganda Marathon
31 mei 2024 | (26 mei – 2 juni 2024)
De Oeganda Marathon is niet zomaar een wedstrijd. Hardlopen onder de evenaar over heuvels in het prachtige landschap van de 'Pearl of Africa' is een belevenis en echt wat anders dan een rondje Vondelpark in Amsterdam of de Marathon door de straten van New York. Wil jij jezelf overtreffen en zowel letterlijk als figuurlijk het beste uit jezelf halen kijk vooral even verder….
Wij zijn de Nederlandse partner van de Oeganda Marathon en bieden sportieve helden met een groot hart de ultieme uitdaging. Haal geld op voor ons goede doel en leer niet alleen je eigen fysieke en mentale grenzen kennen, maar ervaar ook zeven dagen lang de gastvrijheid, natuur en cultuur van Oeganda.
Tijdens de unieke reis ren je de 10 km, een halve marathon of een hele marathon, ontdek je het prachtige landschap en ontmoet je de lokale bevolking. Daarnaast bezoek je een van de scholen die meedoen aan het programma van KforC en zie je met eigen ogen waar het sponsorgeld, waar je zo hard je best voor hebt gedaan, terechtkomt.
Het hardlopen vindt plaats op 3 juni 2023. De complete reis vindt plaats tussen 28 mei en 4 juni 2023. De zogenoemde 'Short-stay' optie is mogelijk op aanvraag.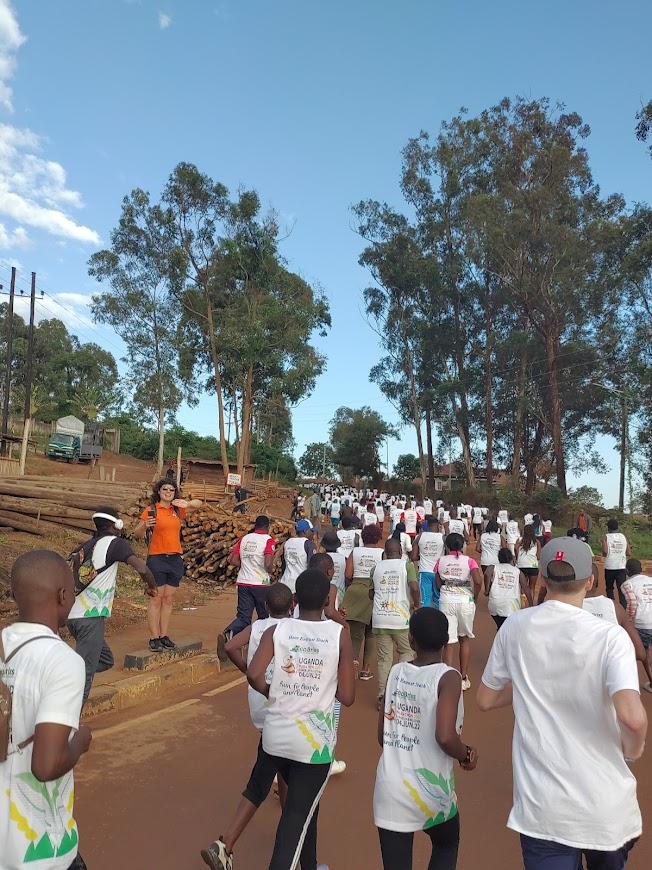 Red Bull "The 9 best marathons around the world in 2018"

Run it for: The community spirit
The Uganda International is definitely not your average marathon. For starters, it takes place over an entire week, and participants run on dusty tracks past rural villages and along the heights of Pine Ridge, looking down on Lake Victoria – sights so epic you'll forget the heat. Participants don't just take on the physical challenge though – they also raise funds to help local, sustainable community projects, which they can visit and actively help out with during the rest of the week, spending time with the community and even helping to manage the kid's fun run. The ultimate do-good, feel-good week in the heart of Africa.

https://www.redbull.com/sg-en/wfl18-9-of-the-best-marathons-around-the-world

Outside Magazine "6 Marathons that Are Actually an Excuse to Travel"
Best for Making a Difference: Uganda Marathon
Masaka, Uganda;
The Uganda Marathon happens over the course of seven days. This isn't just a run. It's a full-fledged social-impact project. You'll explore rural villages, spend days volunteering for community projects, like building schools and helping local entrepreneurs draft business plans, and organize a fun run for school children and orphanages. On day six of the trip, you'll check off those 6.2 miles (or opt for the 10K or half-marathon distances) through a scenic course in Uganda's largest marathon. (…)The entrace fee of $1,195 will go directly toward funding causes allocated by the local communities, like health education and support for the elderly. While you're there, add on a visit to Queen Elizabeth National Park, to stand on the equator and spot buffalo, elephants, leopards, and lions in the park's grasslands.
---